September 2017

Saturday, September 2, 2017: I am slowly catching up on things and my Tams have been getting more awake time. It is really hard to believe that it is September already!! Heidi went from being a Babytchi, to a Marutchi, to an Oniontchi teen that I've been taking good and bad care of. It is hard with my job sometimes, and since I love to always have Baby Blue Tama with me, that is the sacrifice I make in getting lesser characters.
Either way Heidi will be changing into adulthood soon so I have been debating what I'm going to do. She has two potential mates: Mick the itchigotchi teen, or Nicky the Kutchipatchi. I am going to wait and see how fast or slow Heidi changes into adulthood to make my decision on which male to mate her with. :) I really hope I don't end up with another Tarakotchi!!!
________________________________________________
Sunday, September 3, 2017: No changes as of today with my little ones. I expect Heidi to change into adulthood by morning... I hope! I've taken moderately good care of her so I hope I get someone better than Tarakotchi, and less than Mimitchi.
I still haven't decided who will be Heidi's groom.... I will make my decision when all three Tams have reached adulthood. Nicky, my Kutchipatchi has remained on pause mostly... Mick on the other hand is spending as much time awake as possible. I am just laying in bed now, ready to fall asleep for the night. I have the week off work so I can sleep in tomorrow if I please. :) I spent the evening over at Matt's with some new friends of ours so I am mentally and socially tired now.... I must sleep.
________________________________________________
Monday, September 4, 2017: Well I had high hopes for Heidi's adulthood but this

morning after waking up she became..... Tarakotchi! I seriously cursed out loud! I am hoping for a better chance at someone new with Mick, my Itchigotchi of 2 years. I have been connecting these two guys frequently throughout the day so they will bond better as adults.
I am just finishing up a few things here at Matt's place. Our friend Basil just left a little while ago and I got Stanley's cage all clean again. Good day all around! Updates to come when Mick reaches his adulthood.
________________________________________________
Wednesday, September 6, 2017: I woke up this morning to see that Mick had

changed into a Kutchipatchi! Not who I was hoping for, but I do love that little guy. Now I have two Kutchipatchi! Heidi is of the age to mate but Mick and Nicky are only 4 years of age. They won't be ready to mate for at least two days..... I may end up pausing Heidi until Mick catches up..
It is a beautiful, sunny day here today! And tomorrow is going to be even more beautiful! I have taken Labor Day week off for the last few years and always gotten good weather. :-)
The Tams and I just finished watching the movie Revolutionary Road. Good movie, but kind of a one time watch... Wouldn't wanna repeat!
________________________________________________
Saturday, September 9, 2017: Donald, my God Child of 4 years had his birthday party today at Action (spelled Axtion) entertainment center. It was a packed place full of kids of all ages. Donald and I got in a bumper car together and Mom caught it on video. :) Great day with my little sweetie...!
Heidi and Mick finally caught up with one another in age and had baby boys yesterday. :) They are both bobbing alongside their parents. Nicky has been paused a fair bit but I think the matchmaker will be coming for him in the next few days. I actually left Nicky up at Matt's place last night but thankfully he is paused. I am going to run up and get him shortly.
________________________________________________
Monday, September 11, 2017: Heidi and Mick departed at Midnight on the 10th. When I woke up yesterday morning, their baby boys were crying on the screen. I only got around to naming Baby Blue Tama because I've been busy. This is a landmark generation for Baby Blue - 15G!! I named him Ozzie and he changed into Itchigotchi while I was working this afternoon. :) Ozzie is actually the name of one of my cousins new kittens. I think I will name Purple Tama Phife when I get around to raising him as that is the name of the other kitten.
Nicky had some awake time this evening when I got home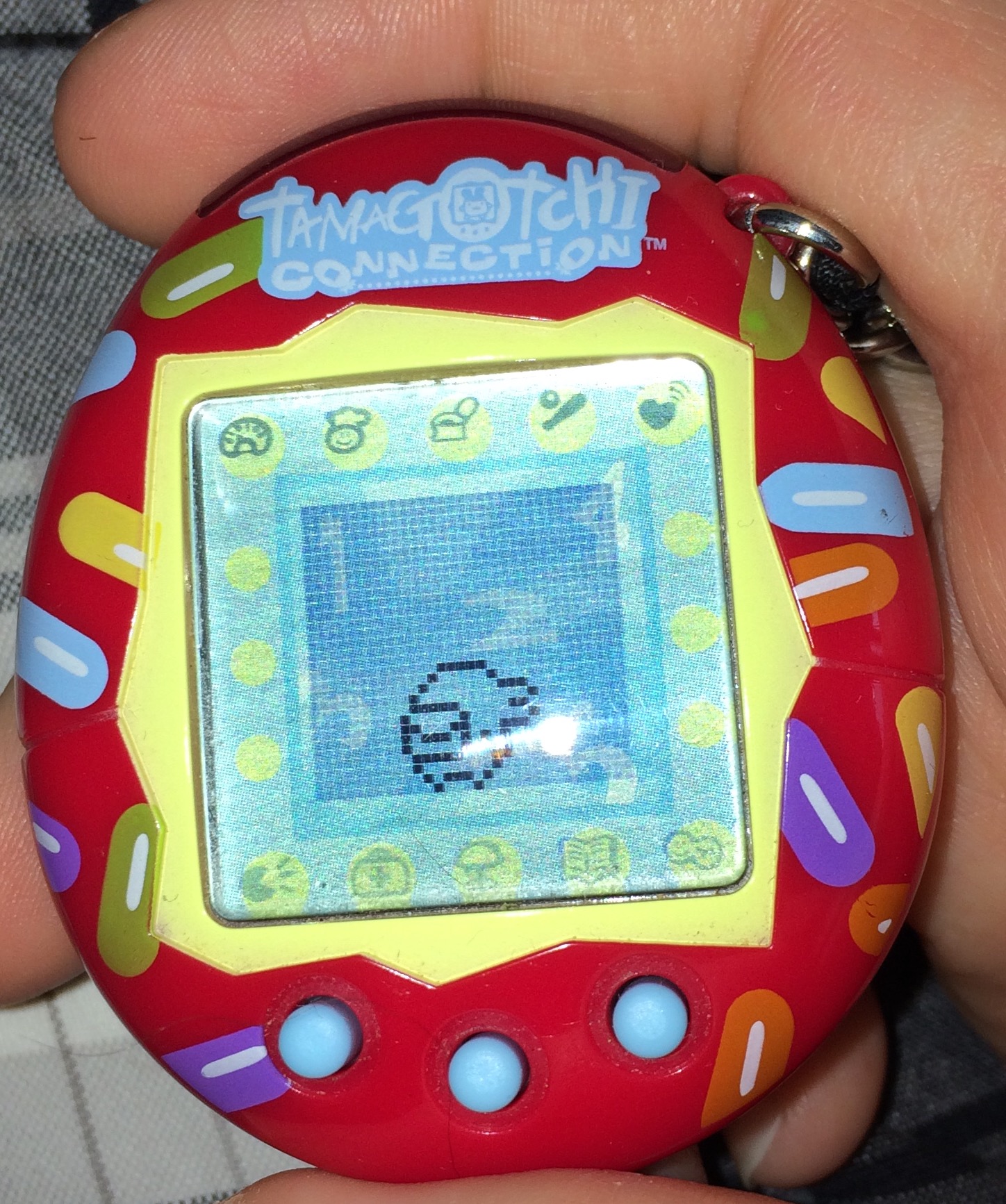 from work. He is 6 years of age now so he will be matchmaker ready by tomorrow. :) I got to see him scuffing around with his little backpack again over the weekend. It was so cute!!! I managed to get a photo of him this time. I'm not sure if I mentioned in a previous post about this, but this is a special animation for the V2's since it is back to school time. I can't wait to see ones for other special occasions. :)
I am actually keeping Nicky up late this evening because I am not ready for bed *just* yet and want company while I play Super Mario Bros. 2 on my Nintendo 3DS. Thanks to Shawn for this great recommendation!!
________________________________________________
Tuesday, September 12, 2017: Ozzie and Nicky came with me to work today and enjoyed a full day off pause. :) I am just home from work now so I will probably come back again shortly. I want to name my 4G baby on Purple Tama! Updates to come.
9:00PM: Phife was raised through his baby stage and changed into a Kinakomotchi just a short while ago. He went right to sleep after changing. I will have more updates on this little guy in the coming days.
Nicky is 7 years old as of this evening so he will be getting matchmaker visits tomorrow! I'm excited to raise more generations on my V2. There are so many characters which will keep things very interesting. :) My vintages have kept me busy for over two years now so I know my Connections are going to get the same enjoyment and love.
9:56PM: We watched the movie Carrie (the 1976 original). Nicky was the only one to stay awake for the full movie. I think it is better that the younger ones missed it....!
________________________________________________
Thursday, September 14, 2017: Today wasn't the greatest, but it also wasn't the worst thanks to a good visit at the doctors. It was also eventful with Tamas! First off the matchmaker came for Nicky at 10:30AM. She brought him a sweet Ginjirotchi and they had a baby girl together. :) I think I am going to name the daughter Lola.
Then this afternoon when I took a break, I pulled Ozzie out of my pocket to see

he'd changed into a Kutchipatchi! I am on a Kutchi Kick lately, hehe!! I can never resist this lovely character. S/he represents 20 years of nostalgia, much the same as Ginji and Mimitchi, whom I love dearly.... I had a little free time to spend with Phife this evening. He is still a Kinakomotchi and will probably grow slowly... I think I want to marry him to Nicky's Lola when she is of the age to bore a child. :)
I also had my two 90's Tams running this evening, Kutchipatchi (clear blue P1) and Ginjirotenshi (Yellow US Angel). They have been around now for well over a month and I haven't had the heart to let them live a natural life span. Lots of pausing for those two guys. I still need to make an update over on my Tamagotchi Blogs - the blogs that started this whole website. I never imagined this page would grow to be so big. And I never thought I would actually get around to raising the Connections. I think they will keep me interested for a very long time. Let the Tama Fever continue!! :-)
________________________________________________
Sunday, September 17, 2017: Nicky was gone when I woke up yesterday morning, and his baby girl Lola left in my care. I raised her through her baby stage and she became a Kuribotchi by afternoons end.
Phife changed from a Kinakomotchi into a Young Mimitchi yesterday, and Ozzie is now of the age to mate. It will be a matchmaker generation for Ozzie, but Phife is going to be Lola's groom. :) So cute!
Today is a cleaning day at both mine and Matt's houses. My washer is broken at my Moms, so I am over to Matt's doing laundry. Then it is back to my house for mowing the lawn and cleaning the floors. A productive, but also very relaxed Sunday.
Update!! The matchmaker arrived for Ozzie with a Tarakotchi and they had a baby girl together. I am going to be naming her Amie. Lola and Phife are sleeping soundly, and Ozzie will be heading to bed shortly as well.
________________________________________________
Wednesday, September 20, 2017: I can't believe it is Wednesday already!! Much has happened since my last update. Ozzie was gone when I got out of bed yesterday morning, and I decided to name his baby girl Cay instead of Amie. Cay got neglected pretty badly since she was born, but yet some way, some how, she became a Young Mimitchi early this evening.... I have no idea how this is even possible, but hey I guess I am just naturally a good caretaker. :) I am going to keep neglecting and see who I end up with.
In other news, Lola became a Hinatchi teen today! Very cute little critter s/he is!
Phife is still a Young Mimitchi and thriving well! I caught him going to the bathroom earlier so I'm sure that scores me some points. :)
We are all here, the Tamas and I, listening to the Moody Blues; Your Wildest Dreams.... I am kind of lost in the lyrics at the moment.... :)
________________________________________________
Monday, September 25, 2017: I haven't written in five days now, but honestly there is not much to tell. Since the last time I wrote, I have raised three Memetchi! Yes you read it - three! Cay was the first to change since I always have Baby Blue with me. That was Friday or Saturday that Cay changed. Lola and Phife both followed yesterday in close succession.
I've decided to mate Cay with Phife as they are both exactly five years of age. If all goes as planned, I will have them married by Wednesday! :) Lola is going to have to depend on the matchmaker for a man now, but that's alright.
Not a whole lot going on around home tonight. I gave parts of the house a really good cleaning throughout the evening, and watched more of The Group (1966) which I can't seem to get enough of. :) It reminds me so much of Sex and the City (1998) and was actually what inspired the TV series. We also watched the Lady Gaga documentary on Netflix. Well not so much a documentary as a sneak peak into her life as of 2017. I have always loved her music, but I didn't know anything about her personality or life until watching this. It's totally worth the watch if you are a Gaga fan. :)
________________________________________________
Wednesday, September 27, 2017: I have been building a relationship between Cay and Phife so they have both been coming to work with me the last two days. They are very easy to care for, the Memetchi adults, so I am able to go for well over an hour without checking on them. Lola stayed home on pause as I am focusing all my attention on Baby Blue and Purple Tama at the time being. :) If Cay and Phife have boys then one of them can be a husband for Lola down the line... A Tama caretaker plans ahead!!
I've decided I am going to start naming my future characters after the men and women from the movie The Group! I am in love with that film so much. I haven't been this in love with a movie since first watching Valley of the Dolls.....! It's just something about that 1960's that makes me giddy.
More Super Mario was played tonight over to Basil's with Matthew. I was on a loosing streak this evening... I much prefer the one player Mario game that I have on my 3DS. ;)
________________________________________________
Friday, September 29, 2017: Yesterday marked a successful mating ritual for Cay and Phife. I had been hoping for baby boys but ended up with girls instead. I will have to depend on the matchmaker for Lola now, though. She is still only 5 years of age so it will be another day or so before the matchmaker comes.
So glad it is Friday.... I just loaded up the movie Halloween (1978) for myself and my vintage Tams to watch (Mimitchi Tama and Angel). Though I really feel I am going to be falling asleep soon, so that may be a movie for tomorrow.
________________________________________________
Saturday, September 30, 2017: Cay and Phife's baby girls were left behind last night and in my care when I woke up this morning. I named them Priss and Polly after two ladies in the movie The Group. :) They are both Kinakomotchi and in bed for the night.
Still no matchmaker for Lola.... Maybe tomorrow.. I really hope to see some different characters in my future generations on the V2. I still can't get over having 3 Memetchi's at once....!