October 2018

Monday, October 1, 2018: It is

and the days have definitely gotten colder. No changes to report with my Tams, except that I made two care misses on Alice and will continue to let the hearts drop to empty and then fill to one full. I got to spend very little time with any of them today unfortunately. I expect Astin to leave his son tonight.. And I just have no idea who Dax will change into....!
Watching a scary movie tonight, Tender Flesh, co-staring my favorite girl -- Joanna Pettet, circa 1974. :) Nothing too scary so far....! I plan to fast forward any gory parts.
________________________________________________
Tuesday, October 2, 2018: I just took all 3 Tamas off pause and it is 5:30PM. Going to keep letting the hunger hearts empty with Alice and then fill them up as soon as she beeps. I'm going to bring her with me tonight when I help friends move. Oh yes, and I'm going to catch all discipline/praise calls.
I let Astin sleep through the night, but he didn't leave his daughter. Perhaps tonight he will feel ready to leave? Busy day at work. Hoping things will settle down soon. I go to my doctor tomorrow and find out if I will be starting Wellbutrin this week!
________________________________________________
Friday, October 5, 2018: I am having a visit at Matt's place this evening so I figured why not update my blog, since I have all 3 Tams here with me. Alice and Dax are sleeping as of right now, both age 2. I still have an hour or so left with Astin and son before their bedtime. I think that Astin will most definitely be departing tonight....!
________________________________________________
Saturday, October 6, 2018: Astin did indeed depart last night, and left his son, whom I named Momo. I napped a lot this afternoon, so he had a slow growth and never changed into a Marutchi until close to 8PM this evening. I expect a change from Alice and Dax tomorrow, and I forgot to mention that I've been connecting those two. :) So I will expect little Babitchi's from these two in the near future.
________________________________________________
Sunday, October 7, 2018: I am very disappointed to say that Alice changed into a Memetchi today while I was doing some hours at work. I was actually mad to see that Memetchi before me on the screen.... I hope Dax becomes a different character that I've not yet had. Momo is still just a Marutchi.
________________________________________________
Monday, October 8, 2018: Big thanks to Kat, Shawn, and Jacob (even though he doesn't know I'm unwell) today. You guys are very good to check in on me like you do. Thank you very much. <3
Dax changed into a Butterflytchi today.... I am not happy, but not unhappy either. If I had gotten another Memetchi then I would have been mad. I really want to see more of the characters on the V2, but I don't have the energy to start my second V2 at the moment. Either way, Dax will impregnate Alice when they are of age.
Momo should be changing into teen-hood tomorrow. I hope I get my Itchigotchi back, and then maybe get Hanatchi. :) I've been feeling really off from my new dose of Wellbutrin, but I've spent lots of time with Tamas at least. I am considering hatching my Devilgotchi this week if work lets up a little. I have two shells to choose from if I decide I want to raise a little Deviltchi. :) I would really like to try the black shell this time I think... I just hope I can do my own work at the office this week and not have to train.
________________________________________________
Tuesday, October 9, 2018: This morning Momo changed into a Hinotamatchi. I laid in bed for a short time and played with him when I woke up at 8:00, while he was still a Marutchi and about 20 minutes later he changed and went back to sleep until 10:00AM, and I did the same. Alice and Dax have been easy to care for all morning. I decided against going to work today... Just not feeling myself with this Wellbutrin. Maybe it is in my mind, but I just need to be home today.
With being home and no plans of leaving the house today, I decided to hatch my black Devilgotchi. And I must say that my black one is in much better condition than my purple and white one. :) This shell is gorgeous, black egg, with purple trim, white buttons, and yellow writing on the shell. Love it! I have a Zukidebutchi at the present time. I don't know if I am making a big mistake hatching this Tama with work the way it is.
________________________________________________
Wednesday, October 10, 2018: I didn't go to work today, and it's going to be twice as hard going back tomorrow. Just wanted to update to say that Dax and Alice got friendly tonight, and then Alice gave birth to baby girls, and gave one to Dax. :)
Momo has been getting his hunger hearts emptied and filled throughout the day, but only up to one full each time. I hope hope hope I get Androtchi or Hanatchi. :( I deserve a character that I want! Devilgotchi is doing just fine, and since I've gotten into the habit of naming my Tamas in the last year, I shall name him Azlyn. (orange color for Halloween). Azlyn is still in the Zukidebutchi (child?) form. I am definitely going to bring him and Alice along to work with me tomorrow. Possibly even Dax and Momo too I am feeling adventurous... I need to have that enjoyment in my day again. :)
________________________________________________
Thursday, October 11, 2018: I don't have much to report for today, only that I brought Alice and Azlyn (the Devilgotchi) with me to work. Right now I am sitting on my bed with all four Tamas. Azlyn is asleep. Momo's time is changed so I can empty some more hearts. Alice and Dax (and daughters) just went to sleep so I put them on my bedside table. [Pause: FaceTimed my aunt so I could talk to my mom and her friends. Unpause] I really don't want to pause my Devilgotchi because the growth process is slow enough as it is. But I'm not fussy over getting any particular character, so I am able to leave the Devil for long periods if work is busy -- So long as I keep the DP below 90 that is. ;)
Loving my Connections, but I have to keep the 90s and themes in mind. Devilgotchi is perfect for my October hatch.... And I think an Angel will be perfect for November for my Dad who will be gone 3 years next month. :( Where has the time gone.... And how much has this website grown. :)
________________________________________________
Friday, October 12, 2018: Today all Tamas had to stay at home on pause. I had a busy day at work, and a funeral to attend for someone very important in my life (her mother passed away). The only thing to report for today is that Alice departed and left daughter with me. I will figure out a name for her in the morning. :)
________________________________________________
Sunday, October 14, 2018: Yesterday Momo changed into his adult form to be a

Kutchipatchi, whom I gladly welcome back into my life. When I woke up yesterday morning I named the baby girls that Alice and Dax left behind. I named them Cara and Anni, and they are now Itchigotchi and UFO-tchi. I am going to let the hearts fall on Cara to see if I can get Hanatchi. As for Anni... She will most definitely be a surprise... I am having some anxiety this evening, and my friend just left a little while ago, so I am going to update more tomorrow.
I almost forgot to mention that Azlyn changed into a Pukudebutchi today! I really missed running the Devilgotchi. It's a good bit of fun!
________________________________________________
Monday, October 15, 2018: No changes to report for today! I've decided to now keep Azlyn's DP lower than higher, and that will ensure I get someone besides Debrumametchi. :) Cara, Anni and Azlyn came to work with me today, and I got my two care mistakes in with Cara. I went through a roller coaster of emotions today so I was really happy to have my Tams at my side. I have a doctors ap in the morning thankfully so maybe that will help things a little.
I fed Anni a burger tonight and she was really happy about it. Shawn gave me the link to the chart that shows all of the characters favorite foods. I will definitely be referring to this from now on. I want to find more tips about the V2 like this and maybe I will get some new characters.
________________________________________________
Tuesday, October 16, 2018: My Moms birthday today! It's been a good Tamagotchi week so far because I've been able to enjoy my Tams being at work with me. No changes to report for today, but perhaps later after the birthday dinner I will have more to talk about. Until then...!
Still no changes to report with my Tamagotchi.... However, I had a nostalgic mome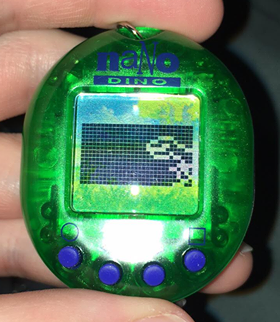 nt thinking about the Nano's released back in 1997 and decided to start up my Nano Dino, whom I have given the name Rex. How original right? :P I really like the gameplay so far. I recall having issues with this particular Nano a number of years ago... I know for sure it was not easy to raise like the Nano Puppy which I also own. Cara and Anni are sleeping and I am hoping for a change into adulthood tomorrow! :) Momo has remained on Pause so that Cara can catch up to him, and they can make passionate love to one another. <3
________________________________________________
Wednesday, October 17, 2018: Two things for today which are not Tama related. 1.) Rex made it to 1 year old. :) 2.) I put a new battery in my Pocket Pikachu GS. Maybe little Pikachu will motivate me to walk more. :) Had a really good day at work, and a good day in general. Maybe the Wellbutrin will work after all?
I expect changes from Cara and Anni tomorrow and I hope I am not disappointed. Either way, I love all the characters, so if I don't get who I want I won't be too upset. I am spending a little time with Momo off pause as all my other Tamas are asleep. Momo has a stress free day at home, while Cara, Anni, Azlyn and Rex get carted along to the office. It's just 12 minutes after 9 but I think it will be an early bedtime for me tonight.
________________________________________________
Thursday, October 18, 2018: Today was another good work day! And a good Tama day too. :) While Cara never changed into a Hanatchi, she did become a

Kutchipatchi whom I can never deny. And better yet, Anni changed into

a Ginjirotchi. They both changed immediately after waking up today. I was soooo happy to see Ginji. I've decided that my two Kutchipatchi, Cara and Momo will be mates so I've already started connecting them. They are a year apart in age, but they will eventually fall in love. ;) I actually love that I have all P1 characters on my Connections right now. P1 and P2 is where it all began after all. :)
Azlyn is 9 years old and still no changes there. I forgot how slow the growth process is on the Devilgotchi. I've been keeping his DP low in hopes of someone besides Devil Mametchi, which I think I already mentioned.
My Nano Dino, Rex turned 2 years old just a little while ago, and boy does he ever require a lot of care. I had to keep my eye on him all day from the moment he (and I) woke up at 7AM. I don't think he will make it past the weekend to be quite honest, but I really do enjoy this little Nano. I think I will raise the Nano Puppy after Rex passes on. Pikachu hasn't gained many steps yet.
Hoping for another good nights sleep tonight! Tomorrow is Friday, and I'll be going out downtown with some friends, so the Tams will have to spend some time on pause.... I will be seeing Donald, my God child on Saturday afternoon as well.
________________________________________________
Sunday, October 21, 2018: It's been a very relaxing weekend to say the least, but I honestly never feel rested enough to go back to work on Mondays. I've had an eventful weekend with Tamas! Last night Cara and Momo had baby boys together. I'm still waiting on a visit from the Matchmaker for Anni, my ginjirotchi. :)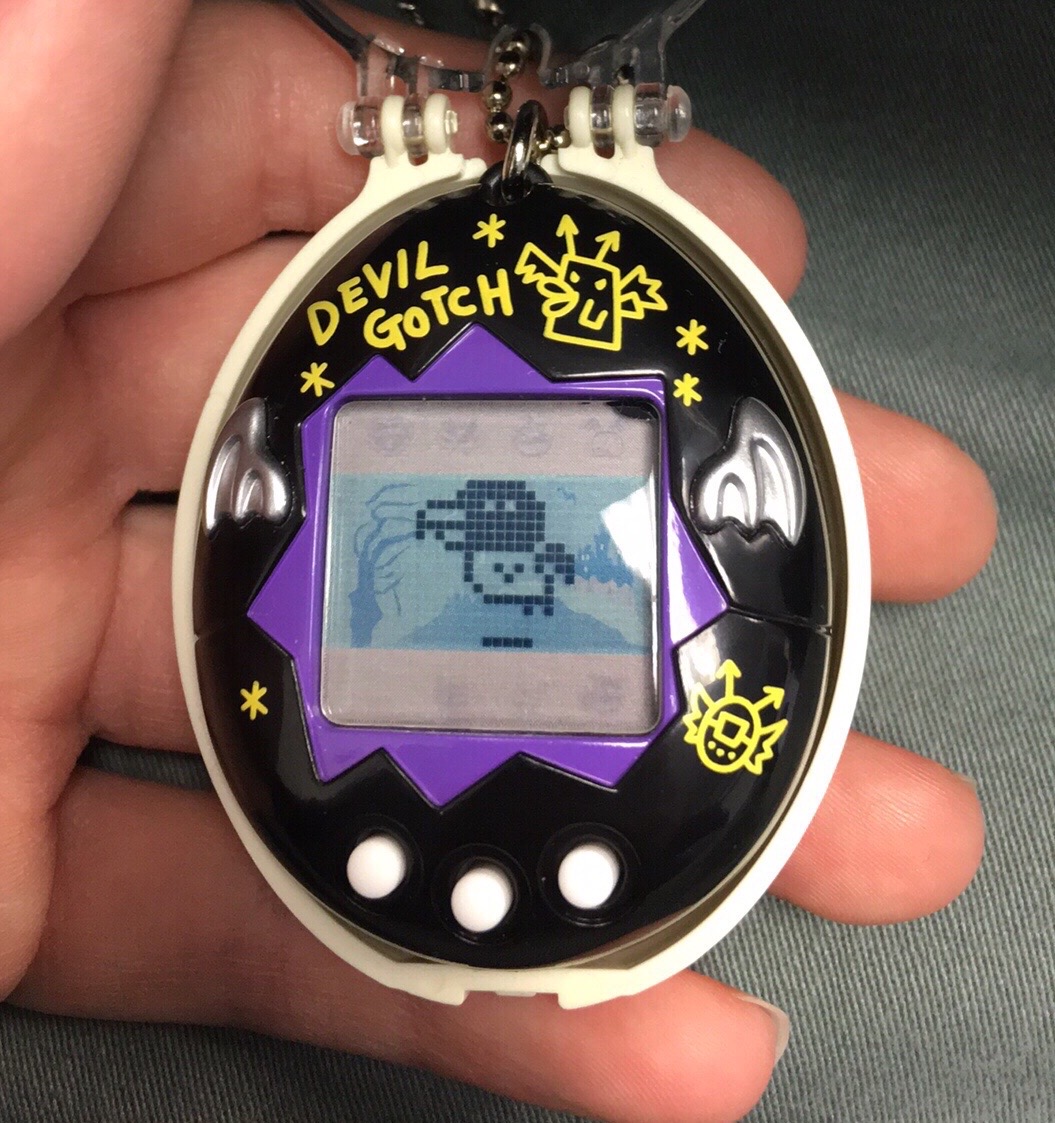 I can't believe it's been since Thursday when I last wrote. I sat down to write here last night and got distracted. Azlyn is still the crow character.... Or have I even updated about that? LOL Azlyn changed into a Debirudori on Friday I do believe. (I took that photo of him at work) My first thought was how he looked like a crow, and I thought the same thing back in 2017. I'm sad to say I've let his DP rise above 90 twice today, and I feel like he could very easily die on me. We shall see what tomorrow brings with Azlyn.
I'm no longer caring for the Nano Dino and Rex has gone away. I will run my Nano Dino again one day when I have more time to dedicate to it. :) Pikachu has also taken a bit of a backseat to the rest of my Tams.
The Tams all got to watch one of my favorite Halloween movies last night, Hocus Pocus. :) Though I've been raising Tamas for so many years that I am sure they are sick of seeing it. But who could really ever get sick of such a fun movie.
I'm not sure which Tamas I'm going to bring with me to work tomorrow, but I may just end up bringing all 4. :)
________________________________________________
Monday, October 22, 2018: This morning Cara and Momo were gone, but I never realized it until I had already brought them with me to work. The babies remained on the naming screen all day until I got home and named them. Tux and Cedo were raised at the same time, and are sleeping Kinakomotchi's now. Not sure who I want to go for on these guys... Maybe the masked characters.
The matchmaker came for Anni this afternoon at work, bringing her a Takotchi groom! She too now has a baby boy. :) So it is going to be a matchmaker generation for all three of my Tamas now. :) Azlyn is now 13 years old and still a Debirudori. I've had a few close calls with him where the DP has risen above 90, but I've always managed to get it down and he hasn't died yet. I think I will keep bringing them all with me to work. I'm not going to worry too much about Tux or Cedo, but I am however going to be more attentive to my V2 after Anni departs. I really want to see some new characters on my V2. I don't want Anni to go! I love my Ginji! Speaking of which, I got some really cute close ups of Ginji today and I will have to post them on my pics page. :) ::sigh:: I really hope tomorrow is better.
________________________________________________
Wednesday, October 24, 2018: The last two days have been really bad work days. But my Tamagotchi's have been a pure joy! Tux and Cedo were joined by a new boy today. Anni left her son Masq in my care. I raised him through his babitchi stage after I got off work, and now have a Hitodetchi (starfish). Also today Tux and Cedo changed into Oniontchi and Young Mimitchi.
On top of everything else that happened at work, my Devilgotchi, Azlyn, departed today at age 14. I got called into a meeting, and his DP soared beyond 90. When I got back to care for Azlyn, he was gone. I restarted my Devilgotchi at 7:59PM this evening, and I've decided to name this one Boo, who is currently a sleeping Zukidebitchi. I'm going for the lowest character on the chart this time - Debirukotchi.
________________________________________________
Sunday, October 28, 2018: I'm not the happiest camper today... This weekend simply passed me by... I'm hoping my circumstances change for the better soon... I'm not doing much to change, though. Quick update for my current group of Tamas. Tux became a Gozarutchi, Cedo a Memetchi (grumble..), Masq is a Hinotamatchi, and Boo is still a Zukidebitchi. Forgive me for my poor mood. I really hope I can have happier posts someday...!
Update: Boo changed into a Bakedeburitchi which is the middle teen character. I'd been hoping for the lowest health teen as I really want the lowest health adult...! We shall see what happens.
________________________________________________
Monday, October 29, 2018: I ended up having to leave work at noon time today... I've just been really off since switching up medications this month, and think I need a little time off....
No changes to report for today. I won't be going into work tomorrow as I have an appointment.
________________________________________________
Tuesday, October 30, 2018: Today has been busy, that I can so for sure. I woke this morning to the sound of a Tama changing, and I knew it had to be Masq. I peered over to my bedside table to see my Red V2, and none other than Memetchi on the screen... Grumble.... Of all the characters on the V2, and he had to become a Memetchi... Oh well...
My good news for today is that my 2018 purple and pink P1 arrived in the mail, along with some other stuff (non Tama related) that I was expecting. I wasted no time and hatched the little guy. I've named him Grape. :) He is now a sweet sleeping little Marutchi.
________________________________________________
Wednesday, October 21, 2018: Today was better! I started 20mg of Fixema and I think I am on my way to good places. :) Two things happened right off the bat at 10AM this morning. The Matchmaker came for Tux and Cedo. Tux had a baby boy with a Tarakotchi, and Cedo had a baby girl with a Hanatchi. :) This was the best part of the day because it means their son and daughter can be mates when they grow up in the next generations. :)
Grape (my 2018 P1) is doing very well today and requires very little care. He is already up to 75% discipline and I've been taking perfect care of him. I just love how much like the 1997 models this P1 is, but at the same time there is a lot more mystery to whom I will get for my adult. There is so much conversation going on the Facebook pages, but I've been fairly quiet there. I need to keep posted on everyone to see how they are doing. The others on the group say the same thing, though -- a lot more mystery and uncertainty about who you will get for your adult.
Pikachu and I are now 'Playmates', so he is a little happier with me now. I've been wearing him on my person at all times this last week and he is much happier and content. I plan to keep this little guy around for a while. The animations are sooooo adorable. Not bad for a 2000 year model virtual pet.
Boo is still Bakedeburitchi but I expect a change from him in the next day or so. I've been keeping the DP low in hopes of the lowest adult form, who looks really cute btw. :)
I should be expecting a Matchmaker visit soon for Masq, and hopefully I will get a different adult on the V2 in the next generation. V2 has so many characters to offer, but I am definitely missing out on some information about how to obtain different characters.