July 2019
Part 8
Monday, July 1, 2019: It was raining here today for Canada Day holiday in the city, and it was also raining in Ginjro. That being said, a lot of great things happened today. First off, I reached a perfect town status and I was not expecting that to happen at all today, or ever. It feels like I've been trying to reach a perfect town forever now but in reality it has only been five months. ;) I installed a metal bench public works project last night before bed and I guess that was the tipping point. I am so so so happy!!! Isabelle informed me that it was the best town ever and the citizens feel the same way. I celebrated by paying off a project for a flower clock, and in the coming week I am also going to do upgrades to the town hall and other things.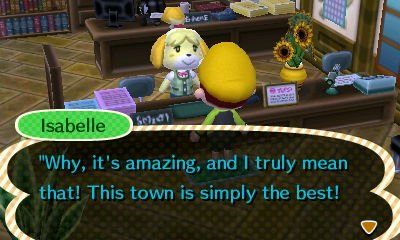 Perfect town status July 1, 2019
In other thoughts, I created a project for a Dream Suite (finally!!). I haven't had time to play with the dream suite yet but I am glad I got it as Shawn said it is a lot of fun to play around with.
More great things: I discovered several new insects and bugs today which I brought to Blathers and donated to the museme. I need to look over my list of fish, bugs and sea creatures to see where I stand with everything and what I am still missing...! I should also see if there are any new fish that will show up today as I have just been going around collecting fruit in one hand and my net in the other. I haven't done any fishing yet today, but maybe more later this week.
Deena celebrated her birthday on the 27th and I happily attended and brought her a soft serve lamp as a present. :D I love Deena so much and I think she will forever be my favorite character in the game. I just think she is the sweetest most adorable character to ever walk the Animal Crossing game. :)
______________________________________________________________________________
Sunday, July 7, 2019: I have finally managed to attain perfect town for the last 5 days! :) As mentioned on July 1st, I went to Isabelle and she told me the news. I came home from work on July 2nd to see that I had lost perfect town and I was actually upset. How could I loose my status over night? I did not understand at all. I did the town hall upgrade and then that seemed to immediately bring me back to the best town rating. I have been paying extra close attention to my town to make sure there are no weeds growing or anything. This should ensure that I maintain a perfect town. :)
Maple moved into town this week past but I can't recall the exact date! She is soooo cute! She's no Deena but she's probably a solid second. :)
Now that I've gotten perfect town, Shawn has sent me a list of things I can do to further enjoy the game. The first thing on the list was to work part time at the Rooster coffee shop. I don't think I've drank 7 cups of coffee from there yet, but I'd say I'm pretty close so I am going to keep going back each day. After that Shawn told me to talk to the Brewster on the right side of the bar and he will allow me to work part time. Could be interesting. :)
I've been catching a ton of Ceidicas and the trees are especially green this last week. Summer is certainly beautiful in Animal Crossing. :D I just love everything about this game.
Pages Created by Dennis J. Ryan 2016-2019 | Animal Crossing images copyright Nintendo