May 2019
Part 6
Saturday, May 18, 2019: Today the Fishing Tourney took place in Ginjro and the fish in question was that of the Carp. I managed to come in second place with a Carp of 30.00mm. Spork was the winner with one of 31 or 32mm. :) Here I am below receiving my silver trophy! So cute!
I guess this would be the first big event there has been since Easter? But lots has gone on since the last time I wrote. One of my better projects to speak of is the light house. Check it out below in all of its glory!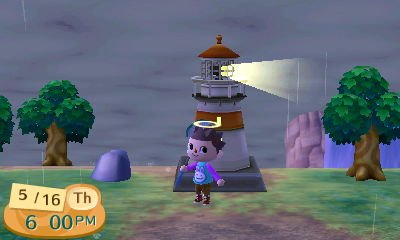 Light House Project
I've also completed several other projects including a fairy tale street lamp, a picnic ground, 2 flower beds, a blue bench, a fire hydrant and others that I am possibly missing. Not only have I completed projects but I've come into some serious bells from selling my perfect cherries over in Shawn's town. :)
______________________________________________________________________________
Sunday, May 19, 2019: It was a very rainy day here in the city today but the sun was shinning in Ginjro. :) I'm so happy to have had this four day weekend because I've spent SO much time playing Animal Crossing and had plenty of time to enjoy other things as well, like Tamas and socializing. I sold 864,000 bells worth of perfect cherries over in TwinLeaf today and brought back three bundles of perfect oranges with me to Ginjro. I currently have 9,956,217 bells to my name and growing every day thanks to my perfect fruit adventures with Shawn. :)
Last night I was visiting Nooks Homes before closing time and decided to purchase a Fairy Tale Roof and a blue mailbox. This morning I woke up and was very happy to see the result. Below is my mostly blue with some pink shingled roof. :D I absolutely love it!!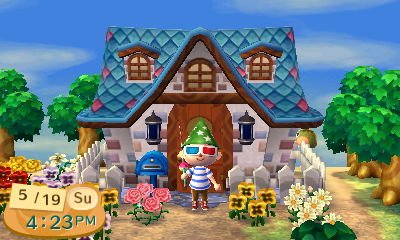 Fairy Tale Roof and new blue mailbox May 19, 2019
I am still waiting for any one of the villagers to suggest a new public works project to me and I go and complete it right away. I went and checked about citizen satisfaction with Isabelle the other day and was pleasantly surprised to see that things are looking up a little. However, I just went and checked with Isabelle again and this time got a different message saying the following: "Goodness gracious... Even from an academic standpoint, this town is really just getting started, wot! There are ever so may topics for discussion, so I'd tackle them one at a time to help build this town! Hoo!". The day before last I got this message which I posted screen shots of on my twitter: "Goodness gracious... Even from an academic standpoint, this town is becoming quite good! If the town grows like this, I have no doubt that its value will keep soaring ever higher, eh wot?". I have no idea why they changed their tune a little today... The citizens still feel that Ginjro is still underdeveloped which is why I do a public works project every chance I get. Variety is the spice of life so I tend to wait for a villager to suggest something before I do a new one lately. :)
______________________________________________________________________________
Monday, May 20, 2019: Last night after I updated I went and did a Public works project. I setup and paid off the new Water Geyser which I had no idea what it was until I saw a preview of it last night. I'm very happy with it but I need to wait for a time when it's spewing water so I can take a screen shot and post here. :) Of course, I checked with Isabelle just now and the town is still underdeveloped so I have to keep working and do Ginjro proud!!
After checking in about the town with Isabelle, I was walking over to the Geyser to see if I could get a shot and little Miss Deena approached me about doing a Garbage disposal for the next project so I went right back to Isabelle. Turns out I have reached 30 projects and will now have to demolish projects in order to start new ones. I have a total of 4 park clocks so I arranged to have one demolished and will have to wait until tomorrow to begin a new project. Oh and there's more: I found out the above from Shawn, and he also said that the garbage disposal will hurt my town rating so I think I am gonna hold off on that one for now -- as much as I love Deena, I need to think about my town rating in the long run. But I am glad I know now about the limit of projects as there are some duplicates that I can get rid of.
______________________________________________________________________________
Monday, May 27, 2019: Tonight I paid off a project for a windmill in Ginjro. I am gearing up for this coming Saturday, June 1 as that will be the first day of summer in Ginjro. :) I'm so excited to see what kind of new bugs and fish will be available to me!!! And just the general feel of the town. I know I'm getting ahead of myself and most people would probably kill me for saying this so close to summer, but I cannot WAIT to see what the Autumn is like on Animal Crossing. ;D There I said it.
Last night I got to play the original Animal Crossing at Jonathan's and it was better than I even imagined. I loved it so much and can't wait to play again. I'm also giving some serious thought to buying a used Nintendo Wii and buying Animal Crossing: City Folk which came out over ten years ago....!
Pages Created by Dennis J. Ryan 2016-2019 | Animal Crossing images copyright Nintendo