April 2019
Part 5
Wednesday, April 10, 2019: Much has happened and yet again I have been unable to get myself in order to update. I've just been having too much fun actually playing and making the most of whatever time I can in Ginjro, TwinLeaf, and Cyclonia. Shawn also made another town called Town Shawn where I go and pick perfect apples and transport them back to Ginjro for big bells. :)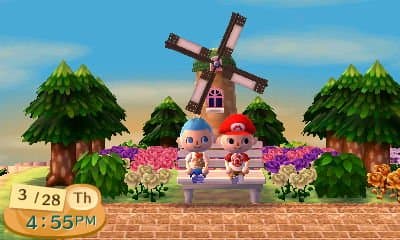 Shawn and I in TwinLeaf March 28, 2019
So much has happened, so many changes, so many new openings. The last time I updated, Club LOL had just opened and I have since learned a lot of new emoji's for my character, Ginji aka ME to do. I'm just so cute the way I light up. So much I didn't know about this game 3 years ago.
I want to go in order of events of what has changed.... Which reminds me, Shawn told me you can sit on the tree and the credits will roll up alongside the screen and display all of your accomplishments in date order..... I have a few things to get together before I can update this any further, and I also have a Tama blog to update.
______________________________________________________________________________
Monday, April 22, 2019: I am so grateful to even own a website so I am really going to try and make more updates to these pages. All I need to do is get organized and everything will come together. :) I've been doing so SO so much in my town of Ginjro that I don't even know where to begin. However I need to say that I experienced Easter for the first time yesterday in Animal Crossing style and it was so much fun. Jonathan came by in the evening and we both played together for a little while. I collected all six eggs for the Easter bunny and got some really cute prizes in return. I got "egg furniture" and other assorted items throughout the entire day. It was also in my favor that I started playing just shortly after 10AM yesterday morning -- early enough that I was really able to take in all the experience and not feel rushed. I can only imagine what Halloween will be like.....! I never played this much back in 2016 so it's safe to say I am fully addicted to this game now and intend to keep playing as much as I can. :)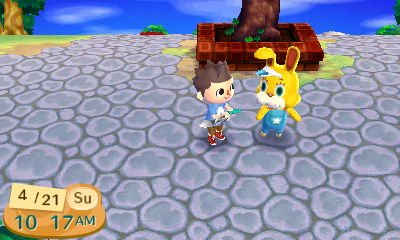 The Easter Bunny and Ginji together Sunday, April 21, 2018
I have been posting screen shots that really speak to me on my Twitter account which is very wholesome compared to the rest of the things I follow on Twitter. :P
I am just going to list off a few things that have been added since I last wrote:
Ginjiro has a coffee shop called the Cafe

Expanded the rooms several times in my home

Got a garbage bin for my house so I no longer have to pay to dispose of rotten cherries

Planted TONS of perfect cherry trees

Collecting TONS of bells from Shawn's perfect apple town :)

Learned lots more emoji's from Doctor Shrunk

On good speaking terms with that grumpy Able Sister. ;)
Things that need working on are Public works projects.... I inquired with Isabelle and the town feels there is a lack of works projects so I am definitely going to work on this in the coming weeks. I'm just so stubborn when it comes to having room for lots and lots of perfect cherry trees, and all fruit trees in general.
______________________________________________________________________________
Tuesday, April 30, 2019: I turned 29 over the weekend and that meant not only a surprise from people at home, but a surprise in Ginjro as well. :) I was actually under the weather during my birthday weekend, so Animal Crossing made things a whole lot more bearable while I nursed a bad stomach at home. I spent tons of time harvesting fruit, going back and forth to Shawn's town, made a couple of visits to Jonathans town in Cyclonia, and did some more public works projects. All in all a very productive weekend in Ginjro. I will post some pictures, though first before I talk any further about my town.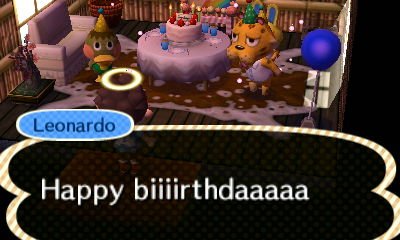 Birthday Surprises!!! April 28, 2019
I changed my town ordinance to that of Bell Boomer instead of Beautiful Town. I will just have to make the extra effort to water my flowers each day and be sure of weeding whatever pops up. It's also a good way to ensure I turn on at least once a day and collect my four fossils at the very least.:) I've installed a fire hydrant, a flower bed and as of today a wind turbine was paid for and will be up and running tomorrow. Let's hope this will make the towns folk more satisfied. :)
Pages Created by Dennis J. Ryan 2016-2019 | Animal Crossing images copyright Nintendo