March 2019
Part 3
Monday, March 11, 2019: It has been an incredibly long time since I have written here due to the fact that I stopped playing Animal Crossing for many years. However, in the last month, I have begun playing again and boy what a treat I have been in for. I wish I had begun blogging as soon as I started playing because I don't even know where to begin anymore. Much has happened and I haven't kept track of any (of the several) events that have taken place in Ginjro since 2016.
I really need to make a list of things but it has been so long, and so much has happened in the last month that I don't know where to begin. I've had home renovations, new public works projects, new town citizens, trips to the island for beetle hunting (which I'll explain in more detail). I also made a new friend, Jonathan who loves Animal Crossing as much as I do, and of course Shawn still plays with me from time to time. All this and more that I have probably forgot to mention in this quick first entry of 2019! Stay tuned for more!
______________________________________________________________________________
Tuesday, March 12, 2019: My Beautiful Town's ordinance is truly the reason I was able to turn this game back on in February of last month and just pick up where I left off nearly three years ago. The town held up fine without me, but things remained the same with regard to my status and where things on Main Street stood. Since beginning playing again, a LOL Comedy Show center (that's not the exact wording or what it's called, I just know it says LOL) opened. The more you accomplish, buy, sell, donate (you get my drift), the more new things that will happen.
I need to get Shawn to list of the tips he told me about and I'm going to write them here so I can work on my progress. I'm not sure if Jonathan has any tips on things I can do. Last night Shawn told me to talk to the character in the sewing machine shop every day and I will be able to unlock something cool with regard to images, and changing the image on my town flag. You know I'm going to want to put a Ginjirotchi jpg as the town flag logo. ;)
______________________________________________________________________________
Wednesday, March 13, 2019: Jonathan and I hung out this afternoon and played Animal Crossing together. I am going to post 1.) an email Shawn wrote me with tips and hints and 2.) an email Jonathan wrote. I need to give both a good read and understand exactly what I need to do.
Shawn AC Upgrades & Unlocks:
Heres all the stuff to upgrade/unlock. Wasnt sure exactly what main shop you have so I listed all. If you want anything else theres plenty more to learn about.


Main Shop
* T&T Mart - Spend 12k or more. 10+ days since creating town.
* Super T&T - Spend 25k or more. 10+ days since last upgrade & garden shop opened.
* Home Center upgrade - Spend 50k. 21 days or more since Super T&T.
* T&T Emporium - Spend 100k. 30 days or more since Home Center. Pass Gracie's fashion checks 4 times. (Gracie is a random weekday visitor)

Others
* Museum Shop - Donate at least 20 items to the museum, with at least one from each category (bugs, fish/deep sea fish, fossils, works of art)
* QR Codes - Speak to Sable at the sewing machine every day. Must be in a row, cant skip days.
* Kicks - Spend 8k in Able Sisters shop.
* Shampoodle - Spend 10k at Ables Sisters or Kicks. Must be 10 days since Kicks was built.
* Fortune Teller Shop - Have Katrina tell your fortune 20 times. Katrina may visit once a week from Mon-Sat 9am-7pm.
* Dream Suite - Keep checking the town hall until you find Issabelle asleep and talk to her.
* The Roost Cafe - Donate 50 items to museum. After the museum shop has been opened for 7+ days talk to Blathers.
* Refurbish Items - Cyrus, the blue alpaca, wakes up after you have played for seven days, sold 100,000 bells worth of items to Reese, and have 100 pieces of furniture and 50 clothing items in your catalog. (Items are added to your catalog as soon as you put them into your inventory, even if the Nooklings' shop doesn't have a catalog machine yet.)
Jonathan AC Upgrades & Unlocks:
Every week a fortune teller comes to town in your event plaza, if you get her to read your fortune 20 times, you can build a fortune teller on Main Street!





You can also donate paintings to the museum, once a week Redd shows up in your plaza and sells four works of art, one is real and three are forgeries. You can look up online how to tell if it's real or not, blathers will only take genuine paintings!





If you build the Dream suite you can get 5000 bells a day! It captures the current state of your town and you get a code you can give others and they can use that code to visit the captured version of your town while they sleep in the suite :) every time you update your dream town you'll get 5000 bells!





At club LOL you can bring food to Dr. shrunk every afternoon and he'll teach you an emotion! There are 40 emotions your character can use, they're the same ones you see the citizens using... like when they're sad, shocked, worried or happy.





If you get your hair changed 15 times at Shampoodle, Harriet will offer to do your hair as the opposite gender. She'll also offer you coloured contacts to change your eye colour! She'll even make a mask for you that looks just like your Mii!





When you befriend Sable, she'll bring in a giant sewing machine and you can use it to create your own designs, or read QR codes from the internet to use other people's designs. You can find anything online, if you want to look like a certain person you can google the QR code for the clothes they would wear. That's where I got my dresses for Elsa :)





Every day your character has a random level of luck, sometimes you can have bad luck where you trip up a lot and can't catch bugs or fish as easily, and find less money. But you can use Feng Shui in your house to improve your luck. Green furniture on the south wall, yellow on the west wall and red on the east wall will all increase your luck. You can find double money in your town among other things if you're having a lucky day!
So I have a lot of reading to do and I am really looking forward to it. :) I started small today by doing my regular duties (collecting fruit, donating whatever I could to Blathers, beetle hunting on the island, etc.), but I also made the effort to speak with Sable at her sewing machine over the last 3 days. :) I'm reading over the notes that both Shawn and Jonathan sent me and they are making more sense each time I read them. I will post screen shots of my house and town soon! :) Much has changed since 2016 as already mentioned.
Oh, yes I had my hair done a little differently today while visiting Jonathan's town on Main Street. It's pretty much the same only a little darker.
Since writing in 2016 I have also discovered diving for the first time. I only discovered it a couple of weeks ago while Jonathan was playing, though I am sure Shawn mentioned it and I just forgot. :P Jonathan also took screen shots of the two of us sitting on the yellow bench this afternoon. :) So cute! Jonathan's characters name is Doxy, and his town name is Cyclonia. Shawn's town is of course Twin Leaf, which was the first town I ever visited 3 years ago.
While visiting Jonathan's town this evening I went and had a coffee beverage at his cafe! I can't wait for mine to be unlocked but I have quite a ways to go yet. :)
______________________________________________________________________________
Thursday, March 14, 2019: I started playing today just shortly after 3:30PM and found a Honey Bee for Blather's. He didn't seem too easy about handling the little thing, but it's been donated to the bug section. I then had him assess three fossils for me, one of which is the ptera left wing which I happily donated. Anddd the Pteranodon is now complete!! :) Go me!
After my good deeds I visited Able Sisters and tried chatting to Sable. She actually opened up to me this time and said she was too busy to talk. I guess that's better than "....". I decided to buy new pants and a wizards cap. I'm actually adorable right now!!! Mabel made me aware that I have NEVER purchased anything from the shop before..... Only I would go 3 years and not make a purchase from a design shop.
4:00: I did some well needed fishing and managed to donate a bearded knifefish to Blathers. :) Slow and steady! I also took a look at my exhibits and I'm doing better than I was in 2016. I've made progress with the donations over the last month of playing.
7:30: I played a lot in the last couple of hours! I donated another sea creature that I found on the island trip I took, learned another emotion from LOL dude :P, collected tons more fruit, and paid off my current house loan. After paying my loan, I went right over to Tom Nook and asked to have a basement added to my house! Gotta have more room for my trinkets. :)
9:56: Shawn came for a visit and did some flower planting and cross breeding for me. I still don't fully understand this but that is okay. He brought me a cute little cocktail glass that I can carry around, andddddd he put a Ginjrotchi image in the Abel Sisters shop for me. :D So happy! I've collected every bit of fruit in my town so no more for a couple of days now. I just asked Shawn about a good way to move tree's around on the island so I can have better chances of finding new beetles and other insects. He said he will help me move stuff around the next time we do multiplayer. I'm not sure how Jonathan has his island setup.... And it has been a really long time since I visited Shawn's.
Wandering around my town with not much to do. Today is the longest I've probably played AC ever...! I really love it! I have my Tamagotchi blog to catch up on but that can wait until tomorrow. I had my Tamas all lined up beside me as I played today. :)
______________________________________________________________________________
Sunday, March 17, 2019, 3:08pm: I am playing right now and both Jonathan and Shawn are visiting Ginjro. Stuff that's happened since the last time I wrote: I have a Ginjrotchi Tamagotchi flag that was donated to me by Shawn -- he actually made the image. My store has upgraded to Super T&T, and the little tune on Main Street has changed. I miss my old tune!!! But that's just me... I am paying off another mortgage to Tom Nook, and this time it is for a basement that was installed last week in my home. I'm going to expand the house out as much as I can! I collect enough fruit and other assorted items for bells that I can do so. :) And I've been making my daily visits to all the outlets to ensure I am doing everything I can to make Ginjro grow bigger and better.
I've never had more than one person visit the town at once. It's pretty cute! I've been collecting fruit all afternoon and being antisocial, not much different than real life. :) I've taken so many pictures throughout the last week but have had no time to upload them to the computer because I've been too busy playing.
______________________________________________________________________________
Saturday, March 23, 2019: I've been too busy playing to bother updating this blog! I've played every single day for the last 7 days and it's so much fun. I will start off with this gorgeous screen shot I took yesterday. :) And look how cute I am!!! I'm decked out in pants from the Sable Sisters and shoes from the new store that opened up on Main Street.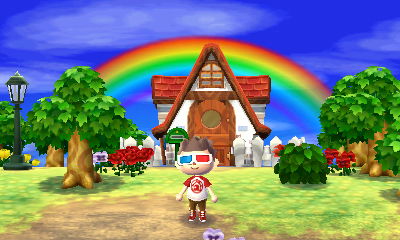 Rainbow Friday, March 22, 2019
In addition to the new shoe store, I've added a second floor onto the Museme which was done through public works projects. My home loan is paid off (basement addition from last week), and I plan to expand further when I start playing later today.
I had a lot of my perfect cherry trees die on me, so I've kept busy replanting new ones each day. I love the perfect fruit! I want to have as many trees as possible. :)
Pages Created by Dennis J. Ryan 2016-2019 | Animal Crossing images copyright Nintendo