May 2016
Part 2
Sunday, May 1, 2016: Here we are into a new part of the blog. A new month, a new blog page! I can't believe I have been playing for nearly a month now. I am so glad Shawn convinced me to buy the 3DS and play this wonderful game. Today I started the ball rolling on a new public works project! This time a yellow bench which I have put in between two trees. The cost of this project will be 30,000 bells and I donated 10,000 right off the bat. I am going to wait a couple of days and see just how much my fellow citizens contribute to this project... :) Shawn will have something sarcastic to say to that I know.
I went to the island last week from Shawn's town so this evening I decided to check out what the island on my game had to offer. There are a lot more trees around in mine, and there were no beetles that were worth any kind of bells like I got when I visited Shawn's island. I collected a few beetles and bugs, a few bananas and went on my merry way back to Ginjro. After that I decided to pick some fruits from the trees, and it seems that oranges are much more forth coming with bells than the other fruits. They aren't 'perfect' oranges like I can get from Shawns town (Twin Leaf), but they are still pretty good. :) .... What else did I need to mention. Oh yes, my mango trees grew and bore lovely mangos. They are lovely!
I went on a little shopping spree this evening as well. I bought a wall shelf that has a little tea pot behind the door which looks lovely on the wall, ANNNDD I decided to really splurge and purchase a fooze ball table. :) My house is really filling up. I am gonna want to expand before I can even pay Tom Nook off!!!!!
______________________________________________________________________________
Sunday, May 8, 2016: It has been a whole week since I updated here and I feel terrible about it!!! I have been so busy that my poor town has had to do without me. :( I finally got some time to play last night and paid off the yellow bench project. It was much cheaper than past projects so I paid it all off in one lump sum. Tonight I came to collect some fruit and get some easy bells and realized the bench was all setup so I got a little photo of myself sitting on it. :)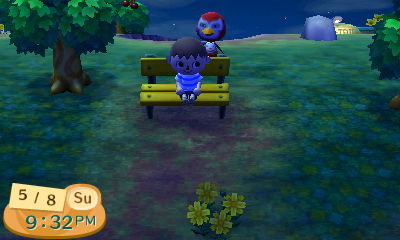 Enjoying my time on the new yellow bench. :)
I headed off to see Isabelle after that as I knew she would want to have a little celebration of the completed bench project so we all gathered round the bench and set off our little party poppers and I declared "onto the next project!". I really do have quite a way with words.
______________________________________________________________________________
Tuesday, May 10, 2016: I have had literally no time to work on my town since Sunday, but I did get some time to go digging for fossils and pick some fruit. I earned another 30,000 bells which I put on my house loan. I still have a ways to go with that yet so I think that is what I am going to concentrate on for the next little while. I know there are so many things I can do in this game, but I really only have time for the simple things right now so I am gonna stick to the basics and try to bring down my loan a little. :)
______________________________________________________________________________
Thursday, May 19, 2016: I have had zero time for my town since the last time I wrote here. I decided enough was enough and that I needed to at least make an appearance and update this blog tonight. When I last wrote I had put down 30,000 bells on my house loan, so when I turned on today I had 0 bells on hand. I decided to keep things light this evening and just did some weeding, and sold some fish and fruit to Reese for some extra bells.
I put a new public works project in place that I forgot to write about in my previous entries. It is a park clock which is going to be stationed on the left of the town hall. I am pretty slack with my donations on this project.... I gotta say I really need to get cracking at my town again. I will in good due time!
I found a lost item on the ground tonight, a little pouch of some sort. I tried asking a couple of the townsfolk if they owned it but to no success. I am much too tired to play anymore tonight so that will have to wait until next time....!
______________________________________________________________________________
Monday, May 23, 2016: Tonight when I began playing I decided to do a little research on things to do to improve my town. Although I know Shawn told me all of this stuff, I easily forgot it because there was just SO much information to take in. I had no idea about half the things I read, like donating the fish to the museum (I thought it was just fossils you could donate), buying items from the stores to get upgrades and new tools, etc.. I am going to do a check list of these things in the coming days. For tonight I am going to do my usual routine of collecting fruit and building up extra bells to go towards my mortgage. :)
Tonight I decided to donate my first fish, a sea bass, to Blathers at the Museum. I have donated so many fossils but not one fish! During the month of April I made it a daily routine to donate any fossils I found, so I am going to start doing the same with any fish I catch. Blathers only wants one of each fish/insect/fossil so it's not like I am giving up a lot of bells by donating them. :) More to come on this as I donate more.
______________________________________________________________________________
Tuesday, May 24, 2016: I have been sick with a cold today and work was hard to complete. Boy was I glad to get home at 4:45 today! I decided to get comfy as soon as I got in the door and started in on my town. :) I donated several fish to the museum and they look wonderful in the exhibits. I gave a clown fish, a rainbow trout, a squid, a zebra turkeyfish, and an olive founder. I also completed the Iguanodon with the final fossils that was needed for that exhibit. :)
| | |
| --- | --- |
| Sea Bass and Zebra Turkeyfish at the museum exhibit! | Clown fish in a separate tank at the museum exhibit! |
I purchased a modern table and a sofa from the Nookling Junction shop. And since Leonardo was in search of some furniture I gave him the cupid bench that I put the new sofa in place of. He was very happy with it and gave me a globe in return -- a different globe mind you than I already have. I have two globes now. :)
______________________________________________________________________________
Monday, July 25, 2016: Arghh!!! I can't believe I went this long and haven't kept up on my beautiful town of Ginjro! I turned my 3DS on for the first time in weeks tonight and the town seems to be holding up fine due to the Beautiful Towns ordinance that was put into effect. ::Phew:: I am just posting this here and will probably make a new page for the month of August since we are pretty much finished with July month now. :) More updates to come!!!
Pages Created by Dennis J. Ryan 2016 | Animal Crossing images copyright Nintendo